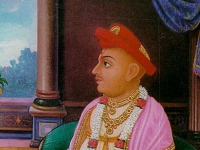 H.H. 1008 Shree Acharya Shree Raghuvirji  Maharaj
Birth date: May 25th, 1809 (Fagan Vad 4- Samvat 1868)
Gadi Abhishek: Nov 10th, 1826 (Kartak Sud 11- Samvat 1882)
Aksharnivas: Feb 18th, 1868 (Maha Sud 2- Samvat 1919)
Acharyship: 37 years
For the protection of eternal religion and uplift the spiritual aspirants from the grasp of material nature and for the developmental activity of the self-established sect, Parabhram Purushottam Narayan Shree Swaminarayan Bhagwan enthroned Shree Raghuvirji Maharaj as the first Acharya (Head of the Holy fellowship - of the Vadtal diocese). He was the nephew of Shreeji Maharaj.
This Acharay's birthplace was in Ambaliya Village in the Northern India (Koshal Desh) which Bhagwan Swaminarayan had already graced. His mother was Variyari Devi and Father was Ichharam ji. He was born on the 4th day of the dark half of the Month of Phalgun. (Shree Raghuvirji Maharaj has been described in the form of the incarnation of Lord Shri Ramchandraji in many religious texts of the holly fellowship.)
Since His childhood, he developed good virtues and was not affected by the bad virtues. He always upheld honesty, truthfulness and was on a benevolent nature. Thus he was everyone's beloved just like one toward their parents.
Through bona-fide Vedic rituals, He obtained the sacred thread (Janoi) and within a short time span mastered his learning of the Veda and Vedangas. Like education he too was very modest and courteous. Those who served him were ever delighted with his noble nature and staunchness in his abidance of the code of spiritual conduct.
Bhagvan Shree Swaminarayan for a long time (Samvat 1858 to 1882 - 24 years) had established and uplifted the righteous codes of conduct and devotional practices. He desired to leave for His divine abode; Akshardham and before doing so wanted to enthrone two eligible persons who would take leadership of the holly fellowship. Acharya Raghuvirji Maharaj and Acharya Ayodhyaprasadji Maharaj who were sons of Swaminarayan Bhagwan's brothers were given this responsibility. Acharya Raghuvirji Maharaj was given responsibility for the Southern part of the diocese known as Lakshmi Narayan Dev Gadi on Samvat 1882 Kartik Sud Ekadashi (November 10th 1826).
Thereafter within a short period, Bhagvan Shree Swaminarayan departed for His divine abode. Remembering the responsibility he was given, Acharya Shree Raghuvirji Maharaj continued to spread the divinity as the holly fellowship grew day by day. He visited various cities to spread the divine knowledge.
Abiding by the duties of a house-holder (Grihastasharam), he lived a saintly life and reverently served HariKrishna Maharaj, LakshmiNarayan Dev and other divine form of Swaminarayan Bhagwan. His was fond of detachment from worldly objects and processed good knowledge. He also reverently served the Saints with true heart as he had great respect for them.
Once a saint fell ill and Archarya Shree himself stayed awake during the night ensured he was at ease. He cooked food (Bajra no Rotlo) and fed him. Bhagwan Swaminarayan was very pleased with his humble service and this event became well known throughout the sect.
Adi Acharya Shri Raghuvirji Maharaj was steadfast in his devotion towards Bhagwan Swaminarayan and understood Shreeji Maharaj as the sovereign divine personality of Godhead. Bhagwan Swaminarayan many times has also protected the Archarya from many difficult situations. When plaintiff Pundits created difficult situations in the Amdavad diocese, Acharya Shree sent Nityanand Swami from Vadodara in aid of Acharya Shree AyodhyaPrasadji. This even in itself is a symbol of unity between the two Acharyas.
Acharya Shree abiding strictly by every commandment of Bhagwan Swaminarayan established the divine forms of Bhagwan in many Temples of the Sect.
Shree Ranchorrai in Vadtal
Bhagwan Swaminarayan's divine lotus feet (Charanarvind) in Gadhpur's Smriti Mandir
Shri Harikrishna Maharaj, Shree Revati Baldevji and Shree Krishna Radhikaji in the main Temple of Gadhpur
Shree Harikrishna Maharaj in Dholera and Junagadh from the various divine utensils touched by Shreeji Maharaj Himself.
Opened a new Temple in Khambhat and established the divine forms of Jabareshwar Shree HariKrishna Maharaj and other forms.
In Bharuch he established Shree Revati Baldevji
In Surat he established the divine form of Shree Narayan Muni and other divine forms of Bhagwan
In the Ghar Village of the Niamd desh he established the divne form on Narayan Bhagwan
In Burapur he established the divine forms of Shree Harikrishna Maharaj, Shree Lakshmi Narayan Dev.
In Savada he established Shree RadhaKrishna Dev and other divine forms of Bhagwan
In the Manavadar Village of the Sorath Desh he established Shree BalMukund Bhagwan
The Sarangpur Hanumaji Temple and the Swaminarayan Mandir within the Saranpur Temple vicinity were also constructed during Acharya Shree Raghuvirji Maharaj's time.
In the celebration of the above mentioned temples bona-fide Vedic activities were conducted and thousands of Brahmins were feed and given alms (Dakshina) according to the ways of Bhagwan Swaminarayan. Through his calm and sacred nature of the Acharya, the divine glory of Satsang spread and grew daily in all directions.
He also authored many Scriptures such as:
Harileela Kalpataru with about 33 to 36 thousand Shlokas in format of various Canto. In this Scripture Bhagwan Swaminarayan's sovereignty as the Supreme personality of Godhead is narrated with various divine pastimes in great details.
A commentary called Bhav Prabodhini which is based on the Sarvamangal Stotra
Bhavarth Prakashika which is a commentary in the Janamangal Stotra
Sanskrit commentary on the Shikshapatri.
Through these Scripture, the supremacy of Bhagwan Swaminarayan's true divine personality and doctrine are understood.
In this way through Scriptures, Temples and his counsel Acharya Shree Raghuvirji Maharaj spread the glory of the Swaminarayan Sampraday for many years. During his final days on the earth he enthroned his nephew Acharya Shree Bhagwatprasadji Maharaj in his place. On the day of his departing he gave good words of counsel to all saints and devotees present as well as Bhagwatprasadji to and left his mortal body on Samvat Year 1919 Maha Sud 2.