Seniors Interactive Satsang Sessions
Thursday, 1st October 2020 - Sunday, 3rd January 2021
With the grace and blessings of Shree Swaminarayan Bhagwan we have some great news on launching new Seniors Interactive Satsang Sessions that will run fortnightly commencing from this Sunday. 
These sessions are going to have a different and exiting formats that includes reading Satsang Scriptures, Q&A sessions, special topic sessions, special speaker presentations and other activities. 
Please join us for our first session on
Sunday, 4th Oct 2020 in the Mandir Hall between 5.30pm and 6.30pm

 
for an eye opening interactive session.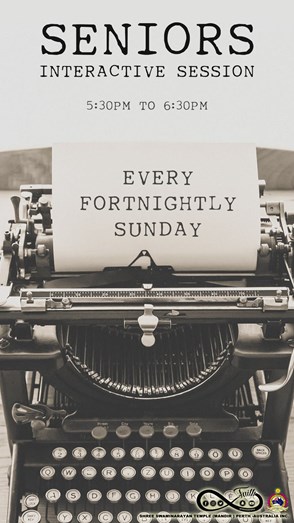 || Jay Shree Swaminarayan ||
Venue
Shree Swaminarayan Temple (Mandir), Perth, Australia Inc
211 Marshal Road
Bennett Springs
P.O Box 102 Beechboro
Perth
WA 6063
Australia
+614892508370
[email protected]