HBF Run for a Reason 2020
Sunday, 24th May 2020
We have a team this year for HBF Run for a Reason on Sunday, 24th May 2020.
If you would like to participate in this family event of a 4km, 12km or half marathon run/walk then register using the link provided:
https://links.sstperth.org/HBFRun
Team name: Shree Swaminarayan Temple (Mandir) Perth
Please note that there is a registration fee for anyone that joins. It also varies depending on whether your HBF membership. This year they can deliver your event pack to mandir for free if you choose to do so.
For more information regarding the registration visit the hbf run website. More information will be provided closer to the event date.
#HBFRun #RunForAReason #ssmandirperth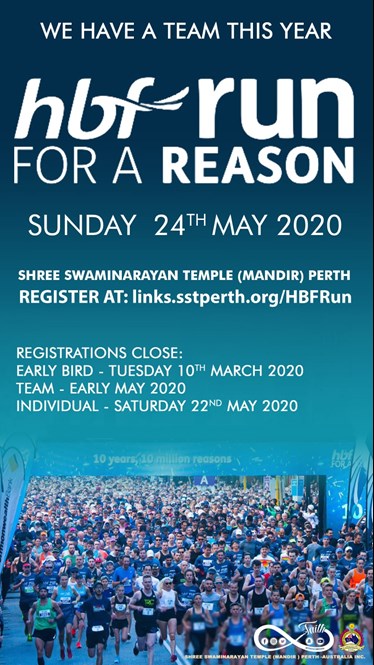 Venue
Shree Swaminarayan Temple (Mandir), Perth, Australia Inc
211 Marshal Road
Bennett Springs
P.O Box 102 Beechboro
Perth
WA 6063
Australia
+614892508370
[email protected]