Mental Health Awareness Session
Saturday, 14th March 2020
Jay Shree Swaminarayan,
It's okay to be upset
It's okay to feel confused
It's okay to feel lonely
It's okay to feel hurt
It's Okay Not To Be Okay...
Join us for a special ladies evening where we talk about Mental Health and raise it's awareness within our community.
The session will presented by Yuvati's on Saturday 14th March from 7:30pm at Mandir Main Hall. We encourage ladies of all ages to attend this session.
In preparation for the upcoming talk on Mental Health, we would be most grateful if you could participate in this 2-minute
survey.

https://docs.google.com/forms/d/e/1FAIpQLSfu7eVMpff0gEMYIQA_BHqsm9bERsLhLnK1hp58Nb6o37r1NQ/viewform
Feel free to share the link with your friends and family in Perth too.
#MentalHealth #Awareness #ItsOkayNotToBeOkay #ssmandirperth
Thank You
Jay Shree Swaminarayan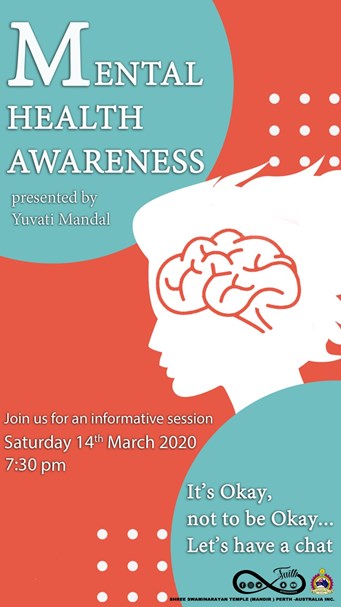 Venue
Shree Swaminarayan Temple (Mandir), Perth, Australia Inc
211 Marshal Road
Bennett Springs
P.O Box 102 Beechboro
Perth
WA 6063
Australia
+614892508370
[email protected]