Guru Purnima
Sunday, 5th July 2020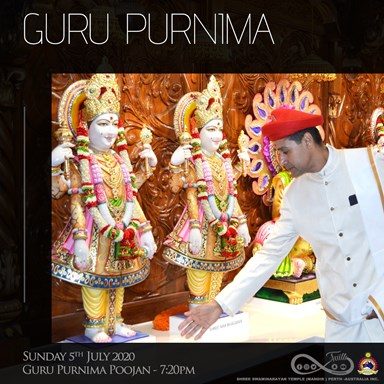 Guru Purnima
Date: Sunday, 5th July 2020

Please join us for an event to perform Pratima Poojan for our beloved Guru H.H 1008 Acharya Shree Koshalendraprasadji Maharaj. Full programme is shown below:
 Guru Purnima Details

 Sandhya Aarti

 6:30pm – 7:00pm

 Fagva and Orda Pad

  7:00pm - 7:20pm

 Guru H.H 1008 Acharya Shree
 Koshalendraprasadji Maharaj Pratima  Poojan

 7:20pm – 7:40pm

 Chesta

 7:40pm onwards

Guru Poornima means paying homage to dedicate Guru (spiritual master) and to honour Him. It falls on the full moon day in the month of Aashada (July - August). It was started by disciples of Bhagwan Veda Vyasa. Disciples/students of Vyasji visited him ceremoniously on the day of Ashad Sud Poonam. Veda Vyasa, the author to 18 poorana including Bhagwat Geeta and Shrimad Bhagwatam and many others. Since then this day is celebrated with great respect of one's guru.
|| Jay Shree Swaminarayan ||
Venue
Shree Swaminarayan Temple (Mandir), Perth, Australia Inc
211 Marshal Road
Bennett Springs
P.O Box 102 Beechboro
Perth
WA 6063
Australia
+614892508370
[email protected]