Shree Krishna Janmashtami Utsav
Wednesday 12th - Thursday 13th August 2020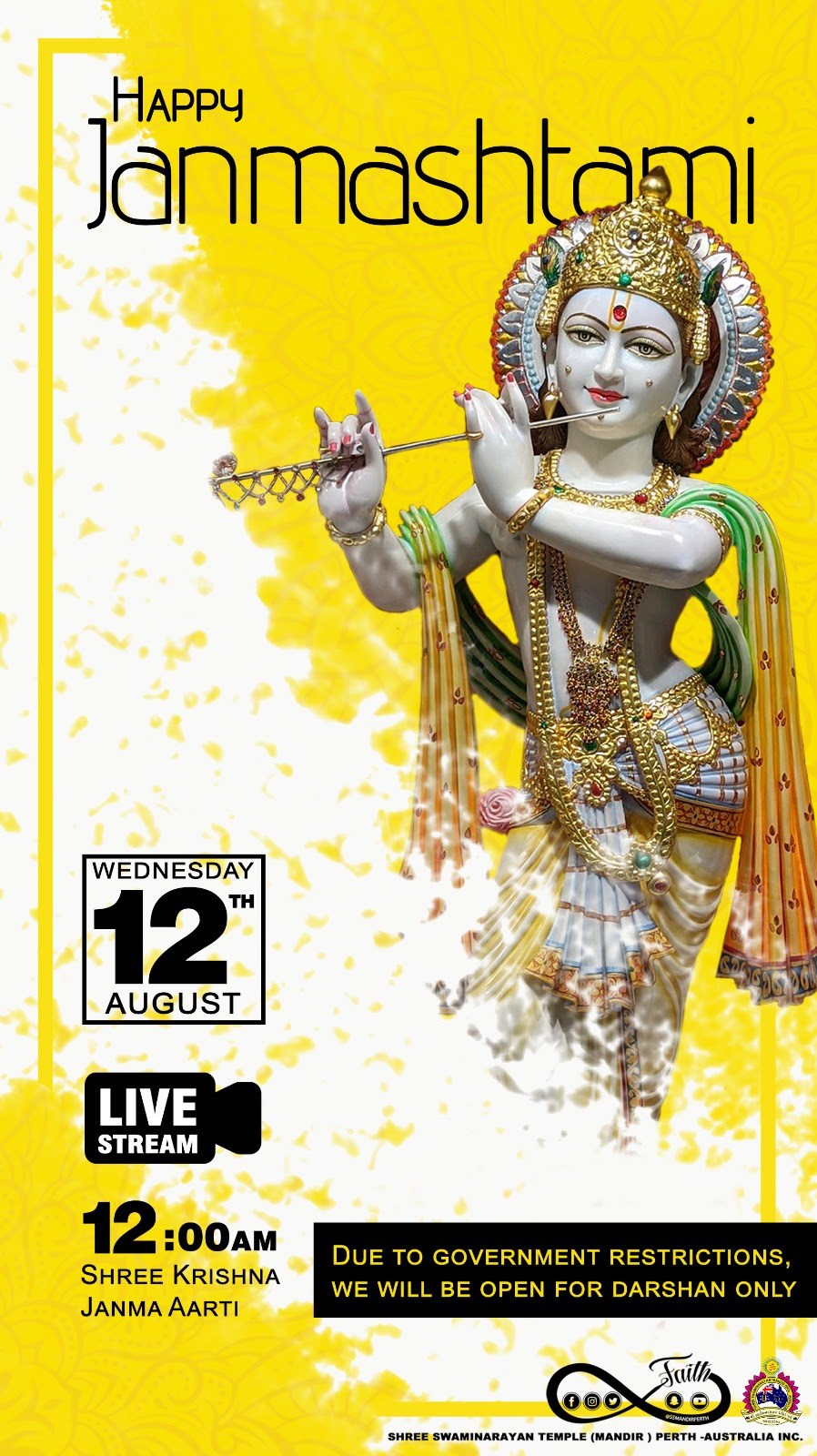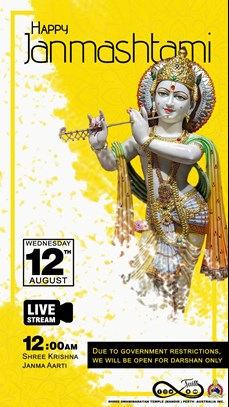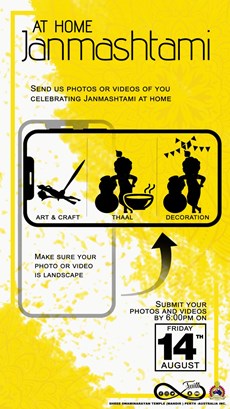 PLEASE NOTE:​ Due to government re­strictions​ we will live-stream Janmasht­ami Aarti on our Fac­ebook and YouTube channels, for devote­es to do darshan. However, selected patrons will do kirtan bhakti until Janma Aarti.
As we celebrate our loved one's birthday, similarly our dearest Lord Shree Krish­na being one of our Family members deserve a grand birthday celebration. Therefore, we would encourage devotees to perform Janmashtami activities at home. Dev­otees can organise and celebrate Lord Kr­ishna's Birthday with Family and Friends at their homes. Activities may include, not limited to, young kids colouring Lo­rd​ Krishna's pictures, matki and flute etc., the elder kids can make craft related to Lord Krishn­a's life and youths can bake cake for our beloved Lord Krish­na.​
You can send to us the video clip or photos (landscape) of the any activities carried out from home either to:
Email:​ [email protected]
Cloud drive:​ [email protected]
WhatsApp: 0402 075 910

See poster for Aarti timings.
YouTube - https://www.youtube.com/user/swaminarayanausi.
Facebook - https://www.facebook.com/ssmandirperth/ 

So, join us (virtually) to celebrate the birth of Lord Shree Krishna at mid-night on Wednesday, 12th August 2020.

Please note the following as we continue with the services and Darshan during the day:
If you have any symptoms of sickness, please stay at home.
Everyone must wash hands in provided basins outside before entering the temple.
Children to remain with their parents/guardians at all times.
Due to limited number allowed in the Mandir Hall, we request to all devotees to please exercise patience while visiting Mandir. 
Please adhere to volunteer's guidance at all times from the moment you enter Mandir gates until you leave.
|| Jay Shree Swaminarayan ||
Venue
Shree Swaminarayan Temple (Mandir), Perth, Australia Inc
211 Marshal Road
Bennett Springs
P.O Box 102 Beechboro
Perth
WA 6063
Australia
+614892508370
[email protected]