Ganesh Chaturthi
Saturday, 22th August 2020
We would like to invite you, your family and friends to celebrate Shree Ganesh Chaturthi on this Saturday, 22nd August 2020 at our temple.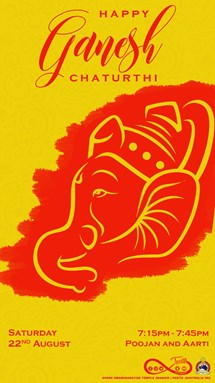 6:30pm – 7:00pm   
 Sandhya Aarti, Nitya Niyam & Thaal   
 7:00pm – 7:15pm 
 Katha 
 7:15pm – 7:45pm
 

Ganesh

 

Poojan and Aarti
 7:45pm – 8:00pm
 Kirtan, Dhun and Chesta

On this day, Lord Shree Ganesh was born thus there will be Aarti and Poojan carried out with Sindoor, Bilvapatra and Churma na Ladoo. By doing the Poojan on this day, we destroy all our problems (Vigna). One should not do darshan of the moon on this day as this is undoubtedly considered inauspicious. 
Please note the following as we continue with the services and Darshan during the day:
If you have any symptoms of sickness, please stay at home.
Everyone must wash hands in provided basins outside before entering the temple.
Children to remain with their parents/guardians at all times.
Due to limited number allowed in the Mandir Hall, we request to all devotees to please exercise patience while visiting Mandir. 
Please adhere to volunteer's guidance at all times from the moment you enter Mandir gates until you leave.
|| Jay Shree Swaminarayan ||
Venue
Shree Swaminarayan Temple (Mandir), Perth, Australia Inc
211 Marshal Road
Bennett Springs
P.O Box 102 Beechboro
Perth
WA 6063
Australia
+614892508370
[email protected]